How We Do It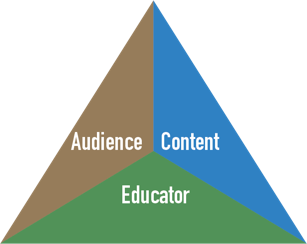 Hillside A.C.E.™ Process
With a steadfast commitment to the latest in adult learning theory, we will train your presenter experts to be expert presenters.  Years of industry experience allow us to quickly understand your target audience and build focused training to drive home your most critical messages.
Hillside utilizes the proprietary A.C.E.™ method of instruction for all our workshops. Developed by co-founder, Christopher Hill, PhD,  the A.C.E.™  method recognizes the three important components that must be considered when designing effective education —
The Audience – Who are they? What do they need to learn?
The Content- What must they remember?, and
The Educator- What is the situation; in-person, online, one-on-one, small audience, large audience, etc.?
Hillside understands that the "magic" occurs in the overlap of these three components — the lasting impact can be seen whenever audiences come to learn from the experts we have trained.